Mandela room
book one of our rooms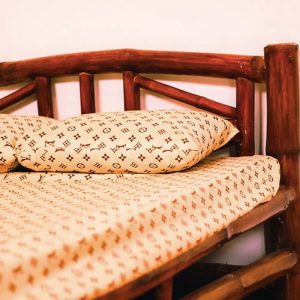 Bahay Aurora Eco Bed & Breakfast is a unique destination that donates the profit to next door Children's Home Bahay Aurora (House of the New Beginning). It is located just 1+ hour outside Manila and close to beautiful natural sources as the Daranak Waterfalls and Laguna Lake.
Besides these eco field trips outside the compound, you can organize events within the Children's Home like games, gift giving and a (eco) tour through the organization.
"Let all things be done in LOVE!" – Bahay Aurora
The surroundings
The Eco Bed And Breakfast is located at the boundary of the towns of Morong and Baras. From Manila (Cubao) it's 1,5-2 hour drive. From Antipolo it's a 30-45 minutes drive. From the airport it's a 2 hour drive. Our driver can bring you to nearby beautiful natural sources like Daranak Waterfalls, Treasure Mountain (The Sea of Clouds) and Laguna Lake.
Guests
The Eco Bed And Breakfast is connected to the compound of Children's Home Bahay Auroa.
Interaction
You will have a complete house with a private terrace and big garden. Outside the garden there is a house where the volunteers of the Children's Home are accommodated.