Bahay Aurora
``Let all things be done in love``
The Children's Home Bahay Aurora is founded by Herke Smidstra and Baras (Rizal) native Arlene Santiago Smidstra in 1992.
They believe that every child in the world needs a family. Beside the field trips outside the compound, you can organize events within the Children's Home
like Games, Gift Giving and a tour through the organization.
"Let all things be done in LOVE!"
– Arlene Santiago Smidstra (Bahay Aurora)
Eco Bed & Breakfast
BAHAY AURORA
Bahay Aurora is a Dutch-Filipino NGO with it's own Children's Home for 45 children, just outside Manila in Rizal. "Let all things be done in love!"
More information:
view more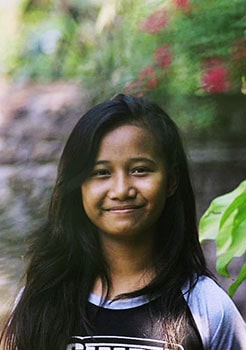 IN THE PICTURE
Miray's story
"Dear social workers of Bahay Aurora,
I'm Miray and i've been living in Bahay Aurora for years, i have learned a lot. I learned how to behave with good manners. Before Bahay Aurora i lived in Tondo, the biggest slum of Manila. We lived in a very small hous made out of thin triplex and cardboard. We lived there with our big family and all slept in the same room, we were always hungry. My parents left the responsibility of caring for the kids and serving the dinner to me. I was six years old at the time. One day a very kind and smart lady came by, and brought me to Bahay Aurora. It has changed me a lot during my stay. I've learned manners, and learned to think about my choices. I thank God that the nice lady helped me out of all that trouble. I'm so thankful i was able to spend my youth living in Bahay Aurora. I'm very greatful of all employees of Bahay Aurora. I miss you!
Miray."
IN THE PICTURE
Mac Mac's story
"I am Mac Mac and i 've been living in Bahay Aurora for 6 years. I was 5 years old when i was found on the streets by a couple of traffic officers. I sat on the side of the road and cried. I didn't know my last name so that was a dead end.
On april 4th 2016, over 6 years after i lost sight of my parents, there sundenly were 2 people that said they were my father and mother! They were found by the DSWD(social affairs), whom were well informed about our search. It was a very emotional happening, which left me and my parents in tears. They even had sold their house in search of me.
They succeeded."